Author: Marie-Hélène Lebeault
Narrator: Sophie Snow
Length: 6 hours and 1 minutes
Publisher: Marie-Hélène Lebeault
Released: Jun. 11, 2021
Genre: YA Fantasy
Clare Knox discovers a castle where the old quarry should be, while walking in the woods near her home. When she realizes it's actually a realm with an infinite number of alternate versions of herself, she can't believe her luck. But things aren't all sunshine and rainbows. Strange rituals are happening at Clarity Castle. Will Clare rise to meet their expectations of her, or will she crumble under the weight of her own negativity?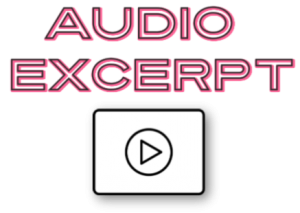 Marie-Hélène Lebeault lives in Cowansville, Qc, Canada, and is the mother of two young adults. Formerly a teacher, she now spends her days writing, translating academic manuals, and lending her voice to corporate training videos. She enjoys reading, hiking, and going to the beach. An avid traveler, she loves exploring the world on Solo adventures. Since the pandemic hit, she's been riding her electric bike all over the province of Quebec and appreciating the local splendor.


Sophie Snow is a motivated student who has always held a deep love for reading, as well as an interest in audio and sound production. Now, her passion truly takes shape as an audiobook narrator. She works diligently to ensure that every aspect of your audiobook, from the performance itself to editing the audio, is excellent and done in a timely manner. She hopes to turn your manuscript into an immersive world that brings your story to life.
Q&A with Author Marie-Hélène Lebeault
When did your love of books begin?

I was dyslexic as a child and hated reading. In high school, I chanced upon a copy of The Thorn Birds. I went to school in French and none of the books appealed to me. This one was in English and I tore through it. It seemed I wasn't dyslexic in English! I read every book they had in there, then moved on to my local library. I was a lifeguard and had a lot of time to read in the summer. I borrowed nine novels every week, as that was the maximum you could take. I later became a teacher and had summers free to read. Later, I discovered ebooks and audiobooks and it's been bliss ever since.

When did you start to have the wish to become an author?

I've always told stories. When I was fifteen, my friends suggested I start writing them down and they were a hit. Then life happened. I'd write for the local paper or do guest blog posts here and there, but I never committed to it. When I had kids, I started at least ten different writing projects but would either get bored with them after a few chapters or give up when I had writer's block. It wasn't until I signed up for NaNoWriMo that things started moving.

How have you found the process for becoming an author?

Once I'd completed my first NaNoWriMo, I was elated. I'd written a novel. It was terrible, but I had done it. The next goal was to publish it. I hired an editor and we got to work. I learned a lot and improved with each book I published. That year, in 2020, I published four novels in a series called The Ever Series. Each was written during a NaNo event. It seems the 30-Day accountability formula is my jam!

What would you say to those wanting to become an author?

Find a pocket of time where you won't be disturbed and write whatever comes.

Join NaNoWriMo, it's a great event with a lot of support.

Read. A lot.

Don't worry about plots, outlines, characters at first if those are keeping you from writing. That's what editors are for!

If you can't afford an editor, get the premium version of Grammarly, of ProWriting Aid and other similar editing tools.

Don't compare yourself to anyone. Ever.

When you make money, invest it back into your business.

Were there any real life inspirations behind your writing?

There's always a bit of the writer in their work. However, Clarity Castle is the only book inspired by real life. Claire and her mother are slightly modified versions of my daughter and I. Not every teen is moody and sullen. Not every mom is a pain. Furthermore, as the book was written during lock-down, there had to be a version of Claire that was going through the pandemic.

Are you an audiobook listener? What about the audiobook format appeals to you?

OMG! I'm an audiobook SUPERFAN! I have subscriptions to Audible and Scribd, in addition to those I borrow from my local library. I'm also an annual subscriber of SYNC Audiobooks for Teens. You don't have to be a teen to register. It usually runs for 14 weeks from April to July and you get two free audiobooks per week, a classic and a new release. I'Ve discovered amazing authors using this service and it keeps you supplied in audiobooks all summer!

I listen to audiobooks all the time. I spend a lot of time at the computer writing, so it gives my eyes a break. I do a lot of walking, hiking, and cycling and listen to books instead of music. I also listen while doing houselhod chores, driving, and to relax with a puzzle or mandala coloring.

People often ask how I manage to read over 125 books per year (142 in 2021). Audiobooks!

Was a possible audiobook recording something you were conscious of while writing?

Absolutely. This was my fifth novel, and the audiobook version of the last novel in The Evers Series had only just gone live when I started writing Clarity Castle. I believe that the experience of recording the four-novel series was as valuable as working with an editor. Not only did my narrator spot some typos the editor and proofreader had missed, but it also made me more aware of the importance of punctuation!

How did you select your narrator?

After we wrapped up The Evers Series, my narrator wasn't available to produce Clarity Castle. I was a little bummed at first, but I ran auditions on ACX and found Sophie. I knew she was Claire the minute I heard her. Young as she was, she was an absolute pro.

What's your favorite:

Food: Fresh baked bread with butter

Song: Ain't Nothing Gonna Break My Stride by Matthew Wilder

Book: The Alchemist. I listen to it evey year because Jeremy Irons is amazing!

Television show: Charmed (original and reboot)

Movie: National Treasure

Band: The Barenaked Ladies

City: Any Coastal City in Maine

Tell us about your other books:

All of my books are available on Amazon and are included in the Kindle Unlimited membership. You'll find the audiobook versions on Audible and iTunes as well as Amazon.

The Evers Series

is a four-book YA Fantasy series about Travelers: a magical bloodline that lets them use a special key to open a door to anywhere in the world. It will appeal to Harry Potter, Golden Compass, and Stardust fans.

What Happens Next? Readers Decide Which Story Becomes a Book

is a YA short story anthology. Like in the Hunger Games, twelve stories compete for the coveted spot of becoming a novel. Each of the fantasy, steampunk, paranormal, and sci-fi story is open-ended.

The Blood Mage

is a spinoff of The Evers Series but new readers do not need to have read the series to enjoy the book. On his sixteenth birthday, Tom triggered strange new magical abilities. When his sister is kidnapped, he discovers he was the intended target. A community of magical villains is after him because he may be the Last Blood Mage. Will Tom embrace his new destiny?

The

Fairy Grandmother Series

is a fantasy picture book series for ages 3 to 7. Every Saturday, Millie spends the day at her grandmother's house. There are no toys and no TV, but it's still the best part of her week. You see, grandma is a fairy! With a twirl of her magic spoon, she sends Millie to wherever she wants to go! The series is currently translated into French. Germen, Italian, and Spanish editions are on the way.
Q&A with Main Character Claire Knox
Your friends are speaking unfairly about a mutual friend. Do you speak up?

I hate conflict. I know our friend is bound to find out and be upset. I won't be able to sleep until everyone is friends again. Yes, I'd speak up to defend my friend and remind the others that they wouldn't like to be the object of such talk.

If you won the lottery, how would it change your life?

My mom works so hard to pay for everything on her own. If I won the lottery, I'd put money aside for college and give the rest to my mom so she could pay off the mortgage.

If you could relive one day of your life without changing anything that happened, which day would you choose?

The day I found Clarity Castle, of course!

Who were you closest to as a child?

Other than my mom, Sam's the one I've always been close to. We met in kindergarten and have been best friends ever since. He gets me.

How would your parents describe you?

My dad died when I was two and I don't remember him. But mom and Nana would describe me as sensitive, caring, helpful, and smart.

Do you stay up late or wake up early?

I'm in bed every night at nine and up with the sun.

What do you do if you can't sleep?

I take a melatonin tablet and watch TikToks until it kicks in.

Are you more of a text person or a phone call person? Why?

Text, definitely text. I hate talking on the phone. Who talks on the phone anymore?

Can you lie easily?

No. I'm the worst liar ever. My face is so expressive that people would know right away.

What's the weirdest job you would be willing to do?

I wouldn't mind stocking shelves. I'd love to be the one to align all the cans. So long as I could listen to some tunes and didn't have to talk to anyone.
Clarity Review: 4.98/5 Stars! I picked this story because 1) it intrigued me, and 2) I am trying to branch out and broaden the types of books/audiobooks I chose to read/listen with my time. After going to the castle the first few times, but before her "awakening," I was wondering if her awakening had something to do with mental illness, or was Claire running away from something and towards a fantasy. Claire's story makes us wonder who we'd be, if circumstances were different. We all have a path in life, but there are always the what if's of life. I am waiting for the next book, can't wait! Shopie Snow's Narration: 5.5/5Stars! Her voice for Claire, and the other characters were phenomenally a dream to listen as I was recouperating. It always amazes me how when the author chooses the right narrator, how the book runs so smoothly and makes listening to the book a delight to enjoy. I received this audiobook as part of my participation in a blog tour with Audiobookworm Promotions. The tour is being sponsored by Marie-Hélène Lebeault. The gifting of this audiobook did not affect my opinion of it.


Plugging you into the audio community since 2016.
Sign up as a tour host here.