Author: Alex Callister
Narrator: Ell Potter
Series: The Winter Series, Book 2
Length: 10 hours 33 minutes
Publisher: Audible Originals
Released: Oct. 1, 2019
Genre: Thriller
Winter returns to face the most feared hitman of all time, the Guardsman.

Winter has put the world of organised crime into crisis by unmasking its boss, Alek Konstantin. Hunted and permanently on the run, he has been caught on camera in Mexico, Virginia and Marseille. Retracing his steps, Winter attempts to uncover his motives and bring the world's most wanted man out of hiding using the tracker he embedded in her wrist. But things aren't quite that simple. After finding Lucy and watching her die a sickening death, Winter's desire to bring down the legendary Guardsman overrides her orders. Knowing Firestorm's top contract killer is experimenting on victims, she takes a contract out on herself to catch him.

Once again disguised as her alter ego, Snow White, Winter follows the Guardsman to Moscow expecting to spring the trap. However, things aren't quite what they seem. Who is the Guardsman and why does he know everything about Winter? With the reality of the situation unravelling as the world's leaders assemble in London, just how much has Winter underestimated her opponent and is the realisation all too late?

Winter faces her biggest challenge yet in this dark commentary on our surveillance society.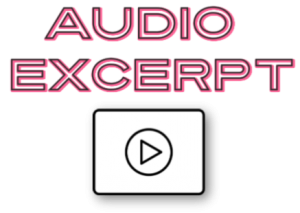 Alex is an action movie fan and her books are full of cult references and movie one-liners. Her kick-ass heroine, Winter, was inspired by Bond, Bourne, John Wick, Vin Diesel, Jack Reacher and many others. She has a history degree, a certificate in creative writing and a murderous imagination. She writes when she gets a chance, which is mainly at night between 10pm and 2am at home in London, with her three Bengal tigers. Her debut WINTER DARK was the Audible UK Thriller of the Year and was a finalist at the Audies in 2020.

Ell Potter is an actor, writer, and award-winning narrator. While training at LAMDA, she was named Audible's 'Breakout Star' and her debut audiobook was subsequently nominated for an Audie. She has since recorded extensively with numerous publishers, winning multiple AudioFile Earphones Awards in the process. Her narrator credits include Hamnet, the Winter series, Dark, Salt, Clear (BBC Radio 4 Book of the Week), In At The Deep End , and little scratch.
Q&A with Author Alex Callister-Part II
What advice would you give to aspiring writers?

Join a community like Jericho Writers and learn. Writing is a skill and a craft. There is loads to learn. In the beginning, you always think your story is amazing because it grips your imagination but often it is not coming across on paper. Stories follow a set structure and it is worth being aware of the rules. There is this tiny book called '

Take off your pants

' by Libby Hawker that is great on this. If you want to write, read it!

How much d'you read?

Everyone always says you have to read loads as a writer and that is broadly true. In his book

'On writing,'

Stephen King talks about reading hundreds of books a year. After I saw that I started to keep a list of all the books I was reading and try and make sure it was at least one a week.

So, what is on your list for this year?

I've been writing young adult fantasy recently so have been very much stuck in that world –

The Raven Boys

series by Maggie Stiefvator, also her

Wolves of Mercy Falls

series,

The Cruel Prince

series, the

Throne of Glass

books

, Shadowhunters, Hunger Games, The Fifth Wave,

you get the drift! I love reading young adult. It is often where you get the most imaginative cross-genre books. Basically, the genre is YA so you can find romance, fantasy, literary mixed with a healthy dose of thriller. There is less pressure to fit into any single category.

What books would you recommend to the aspiring thriller writer?

Crikey. Lots!

Le Carré of course, for spy thrillers

Anything by Robert Harris –

Fatherland

and

Archangel

particularly

Gone Girl

– Everyone always talks about the surprise in the middle of

Gone Girl

and forgets to mention the quality of the writing. All Gillian Flynn's books are beautifully written.

The Bloody Chamber

by Angela Carter – not a thriller. A collection of fairy stories reimagined. Worth reading for anyone into creative writing.

Fifty Shades of Grey

and

Twilight

– these might seem like an odd choice. The critics love to sneer at these HUGE books but there is lots for a writer to learn here about gripping the reader so hard they can't look away. Same goes for Dan Brown's

The Da Vinci Code.

Killing Floor.

Lee Child is the king of the action thriller. The language in the Jack Reacher books is perfectly precise. Each word is weighed and considered. So much so, that another great writer, Andy Martin, wrote a whole book about Lee Child's writing process

Reacher Said Nothing.

Behind Her Eyes

by Sarah Pinborough. There are lots of great psychological thrillers out there, the sub-genre is so popular, but this is the stand out for me.

Honestly, I could go on and on..

When it comes to books on the craft,

Take Off Your Pants,

Libby Hawker.

On Writing,

Stephen King

Reacher Said Nothing,

Andy Martin

If you are really keen:

The Anatomy of Story,

John Truby

Into the Woods,

John Yorke

Save the Cat,

Blake Snyder

What are you reading at the moment?

Silverview

by John Le Carré. It was the last thing he wrote before he died.
Q&A with Narrator Ell Potter
A lot of narrators seem to have a background in theatre. Is that something you think is essential to a successful narration career?

I don't think having a background in theatre is essential to audiobook narration, but it can definitely help. When you're narrating, you're doing all the imaginative work to bring an entire 'production' to life – to follow the metaphor, you're painting the set, you're adjusting the lights, you're bringing the characters in on cue. Working in theatre gets you accustomed to living in a fictional world, holding multiple storylines in your head, accessing different characters, voices, and attitudes at a moment's notice.

How do you manage to avoid burn-out? What do you do to maintain your enthusiasm for narrating?

Having time off from reading is really important! Which is difficult, because I'm a bookworm, so being in a book is my happy place. But sometimes you just gotta give your eyes a rest. If I have a heavy stint of audiobook recording – a book a week, for a few weeks in a row – I try to make sure I have other work lined up for afterwards. I love writing after I've done a stint of narration, because you learn so much from reading other people's work, it always feels like ideas are teeming to get out. If I'm craving diving into a book, I try to pick a totally different genre to the one I'm next narrating, so it feels like more of an escape.

Are you an audiobook listener? What about the audiobook format appeals to you?

I hate to say this, but I'm not! I find it hard to turn off my 'narration' / 'work' brain when I'm listening: I don't find it as relaxing as others might. I'm thinking 'ooh, I love what the narrator did there', 'love that accent choice', 'I wonder how long that took'. I'm listening out for the edits and wondering how many pickups (misreads) they had. I love audio as a medium though. It's so intimate; you're right there with someone; they're a companion, a friend. Though I don't listen to many audiobooks, I am addicted to podcasts; I think intimacy is a similarity between the two formats.

What are your favorite and least favorite parts of narrating an audiobook?

My favourite part of narrating changes depending on the specifics of each project. But the one consistent thing which I

love

is narrating the credits! It sounds silly, but I always leave the intro / outro till last, so it's the final thing I do on a project. There's this feeling of finality, of closing. Saying 'All Rights Reserved' fills me with deep satisfaction.

My least favourite part is in the research phase, where I look up the pronunciations of words I'm not entirely sure on. Sometimes this can be exciting – I get to learn a new word! – but sometimes it's a word I really should know how to pronounce, but I've forgotten, or I don't trust the fact that I haven't been saying it wrong my entire life (haha! it's surprising how often this happens).

How closely do you prefer to work with authors?

There's no set way I like to work with authors. Sometimes I never hear anything from them – and what I enjoy about that is there's this mutual trust between us. The book does all the talking for itself; I'm just the conduit for that story. Everything I need to know already exists in the text.

But I also love the more collaborative approach some authors take – Alex being a case in point! During her writing process I might get an email from Alex asking me how I feel about a particular accent; we go back and forth about what might sound best, what might feel most comfortable. This way of working is so much fun, and makes me feel like Alex is really thinking about, and caring for, the experience of how the story will

sound

. It's pretty special!

Have there been any characters that you really connected with?

In the

Winter

books I have such a soft spot for Simon. A classic example of how Alex's accent-checks help me connect to a character: we decided Simon would come from Aberdeen, where my family is from. I also love that he's an absolute nerd. In the glitz and glamour of Winter's world, he's a relatable anchor in reality.

What do you say to those who view listening to audiobooks as "cheating" or as inferior to "real reading"?

F**ck off!

I joke, but genuinely – it

is

reading. The earliest stories were all told by word-of-mouth. Plus, it's really accessible! And what have we learned over the past eighteen months? Accessibility is really important!
Winter Rising 4.85/5 Stars! Winter is rising to the occasion, and doesn't disappoint. It is hard to believe that the writing could be better, but Alex blows my mind once again. When she says "Desperate Times," I couldn't stop my heart from racing because most would back down, but she goes the extra mile to make wrongs right. I hated that it ended, and can't wait for the next book. I know that a lot of people just think that we'd say nice things to get books, but if a writer is talented, I don't mind buying books. I purchased the e-book versions so I could have them, and maybe let friends see how good they are! I really loved these two novels from Ms. Callister, and can't wait to buy the next two. I'll review them as well! 😁😀😄 Ell Potter's narration 5.5/5 Stars! It was so wonderful to listen to Ell as Winter again, she really brings the characters off of the e-book/audio file and into the room. The way she molds different characteristics is amazing, and I could take lessons from her! The only problem is that I have to wait for the next books! If anyone has any suggestions, please put a comment and I'll look it up! I received this audiobook as part of my participation in a blog tour with Audiobookworm Promotions. The tour is being sponsored by Alex Callister. The gifting of this audiobook did not affect my opinion of it.


Plugging you into the audio community since 2016.
Sign up as a tour host here.